Ready to tie the knot? Consider Hanover your wedding wonderland! Whether you're looking for a florist, jeweler, photographer, or caterer, Hanover's wide variety of merchants and businesses will make preparing for your big day a breeze.
Carolyn and Mike tied the knot in downtown Hanover on a rainy New Year's Eve. Photos were taken by My Dear Love Photography as the bride and groom made their way from the Sacred Heart Basilica to the Black Rose Ballroom. After dancing along to Gazze Band, guests enjoyed catering from La Cucina Restaurant and a beautiful cake from Cakes by Susie. Carolyn wore a dazzling dress from Bridal Reloved in Hackney, London with make-up and hair by Josephine Love Bridal. The couple's rings were purchased from Garrick Jewelers.
Mattie and Josh's spring wedding took place at the Gitt Memorial Library. Rachel Mummert Photography documented this kid-friendly celebration packed with cotton candy, popcorn machines, and a bounce house from Kaylyn's Renta Fiestas. A big DIY fan, Mattie did her own hair and makeup. Paired with her exquisite dress from David's Bridal, she looked stunning standing next to Josh in his Kohl's tuxedo. The couple's rings were purchased from Littman Jewelers. Following the ceremony, guests made their way to the reception area adorned with elegant string lights. Boneyard BBQ catered a delicious meal that was finished with cake made by a friend. After eating, guests danced the day away to music provided by Complete Weddings.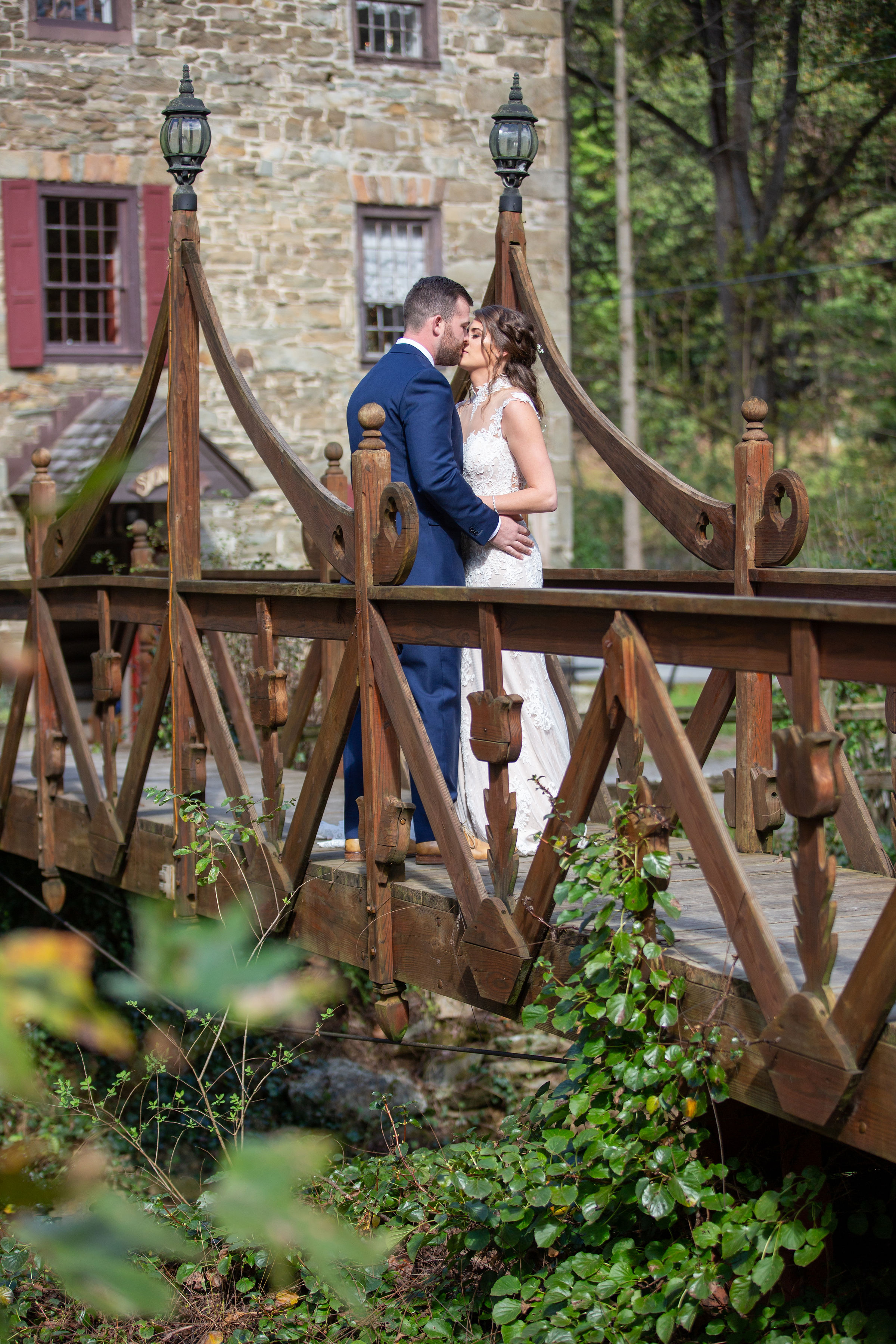 Torie and Nick's wedding took place on an autumn day at the Stone Mill 1792, located just outside of Codorus State Park. Photographed by ClaireDenise Photography, Torie and Nick tied the knot with rings purchased from J. Brown Jewelers in Pikesville, Maryland. With hair by Brittany Reidenbach, makeup by Gypsysol Makeup Artistry, and a dress from TLC Bridal Boutique in Frederick, Maryland, Torie looked gorgeous alongside her husband in his Men's Warehouse tux. The reception was catered by Festive Board with a wedding cake from Snickerdoodles in Hampstead, Maryland. Guests enjoyed music from BWG Music & Entertainment as they celebrated with the newlyweds.
Black Rose Ballroom
34 Broadway, Hanover
Codorus State Park
2600 Smith Station Rd., Hanover
Gitt Memorial Library
2001 Broadway, Hanover
Hickory Falls
110 Hickory Ln., Hanover
Sacred Heart Basilica
30 Basilica Dr., Hanover
The Stone Mill 1792
6210 Smoketown Rd., Glenville
Wareheim Myers Mansion
305 Baltimore St., Hanover
Abithat's
17 Carlisle St., Hanover
Altland House
1 Center Square, Abbottstown
Blue Koi
805 Baltimore St., Hanover
Boneyard BBQ
451 Carlisle St., Hanover
La Cucina
490 Eisenhower Dr. Suite 4, Hanover
Warehouse Gourmet
7 Pennsylvania Ave., Hanover
Byers Butterflake Bakery
210 E. Chestnut St., Hanover
The Cake Bar
22 Carlisle St., Hanover
Cakes by Susie
3999 Baltimore Pike, Littlestown
Deja Brew Bakery
16 Center Square, New Oxford
PHOTOGRAPHERS/VIDEOGRAPHERS
Bill Foster Films
717 E. Walnut St., Hanover
Claire Denise Photography
(410) 259-6658
LoveFusion Photography
(717) 779-6935
My Dear Love Photography
(615) 428-8969
Rachel Mummert Photography
300 Frederick St., Hanover
Sarah Wockenfuss Photography
(443) 974-2858
BWG Music & Entertainment
(443) 744-1467
*Complete Weddings
156 N. Donerville Rd., Mountville
*GAZZE Band
(410) 682-4099
*HD Entertainment
(717) 850-0460
Remembrances Mobile DJ
(410) 756-5742
Gettysburg Rental Center
720 York Rd., Gettysburg
Kaylyn's Renta Fiestas
715 Carlisle St., Hanover
Smith's Port A Pots
1234 Baltimore St., Hanover
AC Moore
450 Eisenhower Dr., Hanover
Hobby Lobby
111 Wilson Ave., Hanover
Party People
7 Center Square, Hanover
A Little Bit of Love Florist
487 N. Blettner Ave., Hanover
Country Manor Florist
1081 Carlisle St., Hanover
Cremer Florist
219 E. Walnut St., Hanover
Hidden Springs Flower Farm
(717) 451-4943
On Angel's Wings Florist
358 Main St., McSherrystown
Pressel's Florist
100 Carlisle St., Hanover
Shearer's Flowers & Gifts
121 Centennial Ave., Hanover
JesSmith Designs
(215) 370-7502
Minuteman Press
955 Carlisle St., Hanover
Persnickety Invitation Studio
2577 S. Queen St., York
RSVP by Whitnie Rae
9 Center Square, Hanover
Hanover Clothing Company
217 Frederick St., Hanover
Kohl's
360 Eisenhower Dr., Hanover
Men's Warehouse
2917 Whiteford Rd., York
Coco's Bridal
13 Center Square, Hanover
David's Bridal
2821 Concord Rd., York
Simone's Unlimited
332 E. Middle St., Hanover
Ashley Lauren Fine Jewelers
165 Dart Dr., Hanover
Farley Jewelers
1000 Carlisle St., Hanover
Garrick Jewelers
1117 Eichelberger St., Hanover
Kay Jewelers
41 Wilson Ave. Gateway, Hanover
Littman Jewelers
1155 Carlisle St., Hanover
The Beautique on Broadway
1012 Broadway, Hanover
Diversified Cuts
16 Baltimore St., Hanover
LaceyLocks
304 Baltimore St., Hanover
Pin Up Hair Salon
6 Baltimore St., Hanover
Rock Paper Scissors
33 Broadway, Hanover
Beauty by Angela K
400 Pine St., Hanover
Beauty of a Goddess
(717) 676-6565
Josephine Love
(717) 456-0060
Flawless Faces and Hair
2 Partridge Ct., Hanover